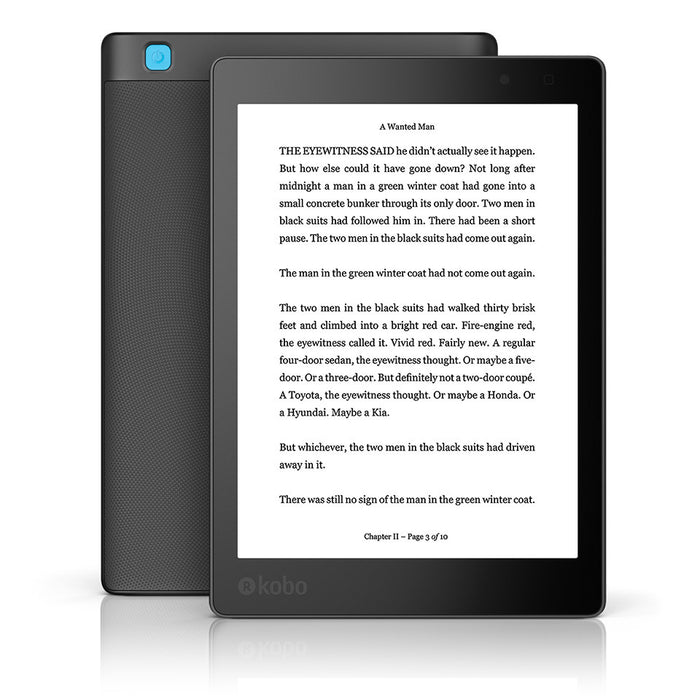 "I feel 100% like what we all had to say in the group went into this eReader."
– Laura P, Booklover
"It's perfect. It's like a real book-size and that's what we kept asking for."
– Ben, Booklover
"Every single thing that I heard come up in the sessions, everything that everybody asked for seems to be here."
– Nance, Booklover
"I feel that all my eReading dreams have come true!"
– Laura K, Booklover
"To see that Kobo actually listened to all of our concerns and our ideas, it's just amazing."
– Esther, Booklover
Get lost in your story on our biggest, clearest screen
Become immersed in a superior print-quality reading experience on the book-sized Kobo Aura ONE. With fewer and more seamless page turns, the sleek 7.8" Carta E Ink screen has a thin, edge-to-edge design that's lightweight and comfortable to hold for hours of reading. You'll never want to put it down.
Natural Light
Bedtime: 11:30 PM ⌄
Bedtime readers rejoice with ComfortLight PRO
By reducing blue-light exposure, the enhanced front-light technology protects your eyes and provides the best nighttime reading experience. The automatic setting mimics the sun's natural progression, emitting the optimal brightness and hue based on the time of day. Or, simply choose your own light settings based on your personal preference. With Kobo Aura ONE, enjoy nighttime reading without impacting your sleep, and wake up feeling refreshed.
Waterproof for the ultimate escape
Sink into a good read while in the bath or take it poolside without worry. Your Kobo Aura ONE has HZO Protection™, making it waterproof from the inside out and is ready to go places other devices can't. The coating technology applied to the electronics inside allow it to be fully submerged without the need for port covers. Now relax, draw a bath and start reading.
*Meets requirements of IPX8 rating. Waterproof for up to 60 minutes in up to 2 metres of water.
Borrowing eBooks has never been easier
Get connected to your local public library right from your Kobo Aura ONE with built-in OverDrive.* Set-up is easy and free, all you need is your library card. With one integrated catalogue, Kobo and your Local Library make it easy to search for the eBook you want and choose to borrow or buy, it's that simple.
*Dependent on library participation, available throughout most public libraries in Canada, the United States, the United Kingdom, Australia and New Zealand. eBook availability will vary based on library.
Open up to endless reading possibilities
The Kobo eBookstore gives you the access you want to over 5 million titles, so a new favourite is always at your fingertips. Get personalized recommendations based on your reading habits and earn Kobo Super Points rewards on every purchase. With more storage space than ever, carry twice as many eBooks as other eReaders and with up to one month of battery life, you can leave your charger behind. With Kobo Aura ONE, you never have to stop doing what you love – reading.
Read your way
No two Booklovers are alike, so create your perfect reading experience with Kobo Aura ONE. The TypeGenius feature has weight and sharpness settings exclusive to Kobo, as well as the ability to choose from over 50 font sizes and 11 font types. Plus, adjust margins, highlight passages, write notes, and look up a word with the built-in dictionary – all with the tap of a finger. Read the way you want, with Kobo Aura ONE.
ComfortLight PRO – How it works
An ambient light sensor is used to determine how bright your screen should be. The natural light setting controls the colour of light, ranging from candlelight to sunlight.
Reducing your exposure to blue light at night can help you relax and sleep better, so with the auto setting turned on, we'll gradually adjust the light colour based on the time of day. You may not even notice it changing.
Exposure to blue light during the day is actually a good thing! It helps keep you awake, alert and focused. With the auto setting turned on, we'll make sure you get lots of blue light while the sun is up.